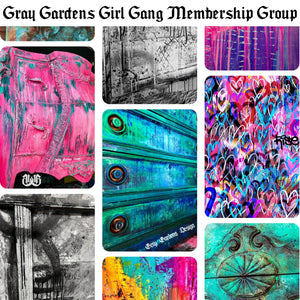 We're thrilled to announce the launch of our new private artistic creative membership group, Gray Gardens Girl Gang! 🌟 We've had so many people asking how we've built our business into what it is today, so we created a space where we can take the time to explain in detail, the steps we took to succeed and to help you do the same! 
Each month we will discuss…  
1 furniture finish (how to live videos)

Diving into subjects like social media, motivation & mindset

Marketing

How to use ai as the ultimate staging tool

Guidance on how to launch your online business, 

Creating effective video content, and much more! 
We want to help you find the courage to take your creativity to the next level!
But what we're most excited about is creating a supportive, non judgmental community where like minded people can create without boundaries 🖤 Where you can go live with us to practice if you're feeling nervous, ask questions without feeling judged, and to just be in a group of supportive people who fix each others crowns instead of knocking them off 👑
* This is a private group on Facebook, so you will need an account on FB to access it! At checkout please include your email address so we can email you further instructions to gain access to the membership group! Please allow up to 1-2 days to receive your email! Thank you ☺️